Post with 2 notes
Yes, I am being serious. Video games saved my life, or changed it in some way. "How?", you might be asking. They are only video games after all. Children's toys. They can't possible change, let alone SAVE, you life, can they? 
My answer in one word is yes. My answer in many paragraphs?
Gameplay
When it all comes down to it, video games are fun. All we're doing is pressing buttons, sure, but those buttons are having an impact in a virtual world. One that is physically viewable mind you. As such I feel that my actions matter to the people inside the game. Well, in some games. Other games I merely play because of how much fun they are. They have essentially given me a hobby that keeps me from doing stupid things.

Games/Franchises applicable: F.E.A.R., Call of Duty, Half-Life, Portal, 007 Quantum of Solace, Bulletstorm, Quake, Star Wars: Dark Forces/Jedi Knight, DOOM, Final Fantasy, Unreal, The Legend of Zelda, Metroid
Graphics
Video games have the power to look absolutely gorgeous. That doesn't precisely mean photorealistic, but simply pretty to the eyes. It's always a treat to stare out at a beautiful vista in sheer awe at the artists beauty. To know I'm walking around in this beautiful world is absolutely breathtaking. Now I'm aware that I'm not ACTUALLY walking around in it, but virtually I am. I am still experiencing these beautiful worlds with my eyes even if I am not physically there. I am still listening to the ambient sounds such as birds singing in the morning. I absolutely love it, and it really helped me appreciate how beautiful nature truly looks in real life as well. I absolutely adore snow-capped mountains and lakes.
Games/Franchises applicable: The Witcher, Guild Wars, The Elder Scrolls, Mass Effect, Drakensang, Trine, Enslaved: Odyssey to the West, Final Fantasy
Sound/Music
Video games have come a long way since the Nintendo Entertainment System days. No longer are games played alongside beeps and boops(which arguably were catchy back then too). Nowadays we have full orchestral scores, full symphonies giving us epic music to get us pumped, ready to take on the ancient evil, save the princess, or otherwise. With that, video games have given me more appreciation of music in general, so much so that I listen to orchestra on youtube sometimes such as Beethoven's Moonlight Sonata or Modest Mussorgsky's Night on Bald Mountain for no reason other than I like them.
Games/Franchises applicable: Dragon Age, Neverwinter Nights, The Elder Scrolls, The Witcher, Shadow of the Colossus, Final Fantasy, Portal 2, Kingdom Hearts, Brutal Legend
Story
And here we are. The final chapter, and probably the most important. I absolutely love stories. Who doesn't? It's why we read books or watch movies/tv shows. Did you know video games can have amazing stories? It's true! Sometimes you have to dig a little deep though to find the gems; the games with memorable characters, fantastic writing, and great set pieces. Or maybe it's just games with minimal dialogue, but superb production that gives you tremendous atmosphere and tells the story with pictures such as Myst or Portal. Games based more on exploration and discovery which tells the story with the whole world around you. It's absolutely incredible and I love every bit of it. I love involving myself in these worlds, and love crafting the story as well. I love games that let you choose how things play out, but I also love expert story tellers taking me down a set patch just as much. Stories in games have helped my imagination run wild, and I feel truly free and comfortable when involving myself in these stories. 
Games/franchises applicable: The Witcher, Dragon Age, Guild Wars, Neverwinter Nights, Planescape: Torment, The Elder Scrolls, Mass Effect, Vampire: The Masquerade Bloodlines, Alpha Protocol, Final Fantasy, Kingdom Hearts, Metal Gear Solid, Shadow of the Colossus, Enslaved: Odyssey to the West, Heavy Rain, Portal, Half-Life, Gothic, S.T.A.L.K.E.R., Silent Hill, F.E.A.R., BioShock
To sum it up, video games have given me something to do to keep me from doing stupid things, an appreciation for music in general, beautiful vistas to stare at, and characters/stories which will stay with me forever. It might not seem like much to some people, but you see growing up I never really had anyone to talk to. I never felt like there was anyone to run to if I had any issues. Thus I thrust myself into these worlds full of fictional people that I felt I mattered to. It was comforting in a way, thinking that I could help these people. Maybe it's silly, or childish to think that way. Whatever it is, it makes me happy and that's the only thing that matters.
Post with 20 notes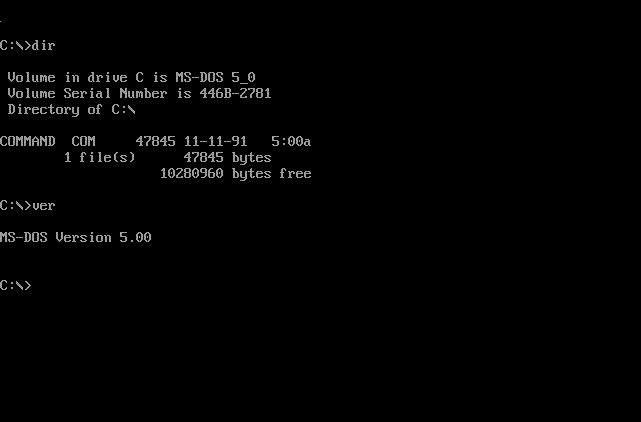 Hi. This is DOS, or Disk Operating System. This is what people used before Windows. Now, you're probably sitting there wondering "How is this important to me?" Well, it's the games. 
"But they're probably impossible to find now!" That is where you are wrong. See, most of the DOS games have become abandonware. Abandonware is a state of being for a program where it is no longer available for legal purchase. In other words, can't find it brand new in Wal-Mart. This is not to be confused with freeware, where the owner of the franchise says "Yeah that's free. Here you go."
"Even so, how can I play DOS games on Windows 7?" Simple;


Meet DOSBox, a DOS emulator. Essentially it's a program that pretends it's DOS; it emulates it. This is what you would use to play DOS games. Oh, it's also a free program. 100%.
"What kinds of games could I play?"

Chasm-The Rift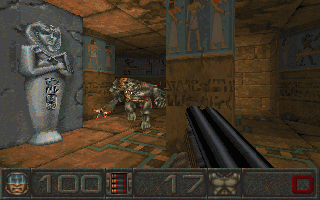 The Elder Scrolls: Daggerfall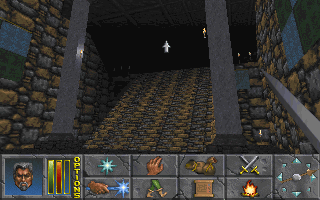 System Shock

 

And so on and so forth.
"Wow. Those graphics are old. Why should I play that instead of Battlefield 3?" That's a good question. Does Battlefield 3 play like a unique game or does it have the core features of any FPS you play nowadays? The gameplay in these DOS games are quite varied and since they're free, you won't lose anything in trying them out. The graphics aren't the best, no, but they're still great.
"But how are the controls?" Well, for one who just starts DOS games, yeah they take some getting used to, but they are SO worth it. I really do recommend you take the plunge. They're not simplified or anything, but once you get used to them you're hooked.
"But where can I find them?" They're not that hard to locate really. For abandonware, I use http://www.abandonia.com/. It has a good amount of freely downloadable games. Bigger games are in a forum section that requires a free account. Now, there are some DOS games still being sold, but they're easy to find and quite cheap. http://www.gog.com/ is where you can find them. You buy the game online and are free to download them whenever you want. If it's a DOS game, everything is all configured for you so you just need to download the installer, install the game, and run it. Very user-friendly! They're tied to an account so if you lose the installer, you can just sign on and redownload as much as you want. Convenient!
Beyond that, it's the history. This is where games used to be before where we are now, and I find delving into that history first-hand incredibly entertaining and a huge privilege! And since it's free, there is no risk.
"But how can I work DOSBox? It looks challenging!" At first it very well may be. I suggest reading the tutorial at http://www.dosbox.com/wiki/Basic_Setup_and_Installation_of_DosBox. It's a very well written tutorial and it helped me master DOSBox. Now I have NO trouble at all playing all of these great classics.
They deserve to be played and appreciated, even today. Will you take the plunge?